Delhi is a great city, but when you first arrive here it can be a bit frustrating to find all the things you need to make yourself comfortable. Usually you can ask around, but sometimes it takes a lot of searching to really find what you are looking for.
Here are some hard-to-find things that have made my life normal in Delhi: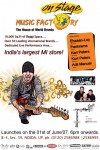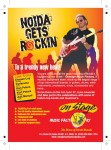 A Real Musical Instrument Store – Onstage is a company that has several branches in Defence Colony and Noida Sector 18. After searching dusty back alley shops in vain for quality music equipment, the amazement and relief that swept over me when I entered OnStage for the first time was indescribable! Quality instruments (albeit at inflated Indian prices), good service, and good prices on everything else.
Tex-Mex that isn't Indian - For my first 2 years in Delhi I craved a good burrito with tortilla chips, salsa, guacamole and an authentic margarita to wash it all down. Frankly, this didn't exist. Until Sancho's came along! Located in South Extension Part II, Sancho's menu doesn't have a single Indian item on it. It's a favorite local hangout for Americans like myself, and compared to other restaurants in Delhi, it isn't excessively overpriced and has a great bar.
Some people might advise you to try Amigo, a new "Mexican" restaurant next to Smokehouse Grill in GK-II. Those quotation marks are around Mexican for a reason. Everything aside from their guacamole is overpriced and under-satisfying. The dishes I tried tasted like they were prepared by a chef failing miserably to appease two different palettes, one of which he obviously doesn't understand at all. I'll let you guess which.
Real Beef – Most Indians will tell you that you can't get real cow meat in India. That's not actually true. There are a few high-quality ways to get beefy: restaurant-prepared food or delivered directly to your door ready-to-cook.
The best-prepared steak I have had in Delhi is in the middle of the pack when it comes to price (about 700 INR after the ridiculous 22.5% VAT and 10% service charge all the restaurants attach to their bills). Just head over to Smokehouse Grill in GK-II and order the Tenderloin Fillet. It comes with potato wedges, asparagus, and some great sauce on the side.
The real secret, however, is "The Meat Man". This guy is akin to the alcohol smugglers during prohibition. While not technically illegal, he understandably wants to keep things on the down-low. Althought I haven't had time to try him personally, he supplied some amazingly tasty beef to Sancho's last year. If you'd like his contact information, send me a message! What do you get? Commercial-quality fresh beef of any shape or form (ribeye, fillet, sirloin, ground beef, etc) delivered on ice from Calcutta to your door for about 300 INR per kg. So I hear. Minimum order is 500 INR.