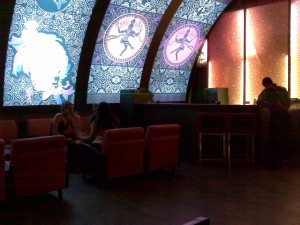 Most of my friends went to Goa this weekend so I had a chance to break from the usual routine and explore new activities and circles of friends. On Saturday night we were fortunate to have a raging thunder storm that cooled off the city and cleared out the "yuck" in the air that has been lingering around for weeks. Cait and I decided to head to the new rooftop terrace at Urban Pind to enjoy the peculiar weather and a bottle of wine. We weren't the only ones admiring the Delhi downpour and soon a bunch of our recent acquaintances showed up. It turned into a really nice evening of getting to know new friends and making plans to hang out the rest of the weekend. One couple goes on a week-long vacation every two months and has an awesome travel blog filled with photos of their adventures.
On Sunday I headed up to Aqua at The Park to enjoy the weekly gathering of pool-side loungers and water volleyball players. I had a great time but to my dismay I found that everything at Aqua seems to have increased in price, especially the alcohol. Unbelievably, a Long Island Iced Tea set me back an insulting $27 USD! Word to the rebellious: try to BYOB. They don't seem to check your bags when you enter.
After Aqua (and a power nap), the group moved over to Tabula Rasa to catch an acoustic performance by my favorite Indian band, Soulmate! The gig was outside on the terrace. Before the band started the emcee killed time by giving out "prizes" to random audience members in exchange for performing tricks to entertain the crowd. He called me out and asked me how daring I was, and then asked who my girlfriend was for the evening. I called up Cait (Indian crowds like blondes) and he asked me to propose right then and there for a "good prize". After Cait and I were engaged he handed me the stupidest Motorola polo shirt I have ever seen. Some prize. I chucked it about 5 minutes later, which is about how long our engagement lasted.
Aside from the heat, a flash dust storm and the insanely high price of spirits (wtf is going on, Delhi?!?!), there was free Kingfisher beer (it was a sponsored event) and the music rocked as usual.