Finally. So it turns out my flight yesterday was cancelled without my knowledge. And I don't mean simply cancelled at the last minute; I mean HELLA cancelled like 2 weeks ago. I found this out at the airport at 2AM, of course. TII.
So I rushed home and booked another ticket on Air India/Dragonair for the evening so I wouldn't miss our Shanghai office grand opening party on Sunday afternoon. I promptly slept all day long, went to the gym, and then headed to the airport.
Everything was going smoothly until I got to security check and realized I had my nice black Swiss Army Knife with me. I'm not checking any bags so this was a problem; fortunately the security personnel worked with me to get the airline to check it for me, receipt slip and all. Score one for improved service at IGI Airport.
Every time I come to IGI things are getting nicer and running more smoothly. They're even covering up a lot of the garish marble with nice faux wood flooring. Oddly, however, for the first time ever at IGI I had to ride a bus out to the tarmac to board the plane.
Speaking of which, I feel like I'm flying straight back in to the 1970′s, here. This Air India plane is VINTAGE, complete with gaudy color scheme and ash trays in the arm rests, presumably unused for decades. Will report back on the service later. Zai4 jian4!!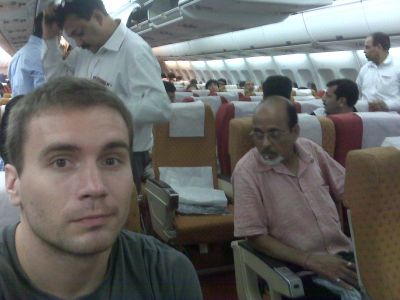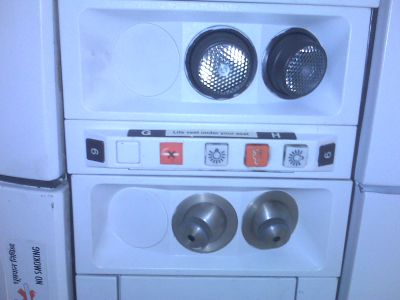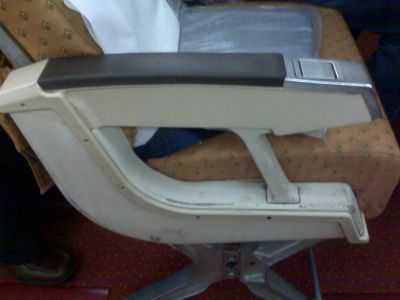 UPDATE: My Air India flight was late, so I missed my connecting flight. Fortunately the next flight is only 1.5 hours later. Any more set-backs and I'm going to miss our company celebration!